[Mod] Mighty (mini)Mod of Doom (archive version, defunct)
[Mod] Mighty (mini)Mod of Doom (archive version, defunct)
[Mod] Mighty (mini)Mod of Doom (archive version, defunct)
Mighty (mini)Mod of Doom <--M(m)MoD-->
Download:
As promised yesterday, I've finished adding items that were already work-in-progress, and made some small gameplay changes.
New Clothes:
- dirty grey suit jacket
New Misc. Items:
- 3.5" speaker
- working motion sensor
- motion-activated noise trap
Gameplay Changes:
- Electrician scavenging
- AA batteries don't stack
- scavenging now makes you tired (physical work costs energy? no way!)
Jacket is a mid-ground chest clothing - warmer than t-shirts but less protective than hoodie/sports jacket. It also has only 2x2 pocket and degrades way faster than other clothing - it is a suit after all, not meant for night-time panicked running in the woods. And as always, new jacket showing up, means less chance to find better clothes.
Motion-activated noise trap is a new contraption, available to all the Electricians around the world.
Recipe:
Electrician skill
Philip's Head Screwdriver
2x medium parts
4x small parts
1x speaker
1x motion sensor
The trap is much more efficient way of protecting player's camp (it has bigger alertness effect than standard "can-on-a-string"). What's more, it lasts way longer than the old wire trap and when turned off, it barely even degrades at all. It needs to be charged with 2 charges per hour (only when turned on) and can be powered by any 1x1 battery (military, AA or from a cellphone).
Both speaker and sensor are simply parts, with no uses of their own (other than selling). Speaker can rarely be found while scavenging or at the market. Sensor cannot.
Those skilled in Electrician trade, can now scavenge Office Towers, Ruined Office Buildings and Ransacked Minimarts in order to retrieve some still-working parts from abandoned office equipment. This action does not affect any standard scavenging stats, but brings a passive chance of finding additional items (for now: small and medium parts, speakers, sensors and laptop batteries).
And finally, the scavenging fatigue - from now on, every scavenging attempt will make the character loose a small amount of "Sleep/Energy". Cause, you know, working makes you tired. It will also make the character a tiny bit warmer - nothing life-saving, but I felt it needs to be there. The big game-effect comes from scavenging with Strong/Crowbar - those two will add 4x more tiredness on top of the basic rate (as well as some more heat). Pumping with full force for an hour or two can get character actually exhausted, so watch out and do not overwork yourself, out there in the ruins ;D It can also, theoretically, mean a possibility of a heat-stroke when working non-stop on the very hot days, in too thick clothes.
And AA batteries don't stack anymore, cause I didn't liked that. Instead, the military-grade ones have twice as much space for charges inside (2x1).
-----------------------------------------------------------------------
Added/changed in previous Versions:
Spoiler:
Highlight to view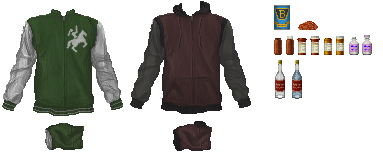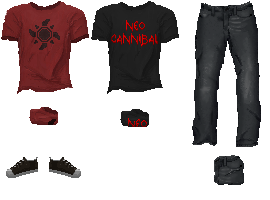 New Clothing:
- Grayling Dragoons football jacket
- black-red hoodie
- Black Hole Sun t-shirt
- Neo Cannibal t-shirt
- Grey Jeans
- Sneakers
New Containers:
- "Morningstar" school backpack
- Worn-out leather suitcase (also works as a weapon)
New Drugs:
- Propranolol (prescription beta-blocker heart pills) + bottle (causes bradycardia)
- Esomeprazole (indigestion and heartburn pills) + bottle (are minty)
- Sertraline (prescription antidepressant) + bottle (are sedatives and cause dizziness)
New Food:
- "Golden Ribbon" baked beans in tomato sauce + can
- Milk Powder + can
- Milk
- Meat Preserve + can (some cause Gastroenteritis)
- Handful of Maggots (some cause Gastroenteritis)
- Boiled Soup
New weapons:
- Rusty Metal Pipe
- Hatchet
New Misc. Items:
- bunch of metal wires and scraps
- improvised rat trap
- dead rat
- plastic pill bottle with missing label
- "Red Horizon" vodka bottle (not findable right now, for later additions)
- Metal Locker (fixed container at the Exam Room in Cryo Facility - contains starting goodies)
New Recipes:
- improvised rat trap (10x small parts + 10x medium parts + Mechanic skill + screwdriver)
- milk from milk powder (powder + water + fire + pot/bottle/can)
- boiled soup (condensed soup + water + fire + pot/bottle/can)
New Conditions:
- Mild bradycardia (from drugs)
- Dizzy (from drugs)
- Frenzied (NPCs only)
- Wild Beast (monsters only)
New encounter location:
Norton Shores Refugee Camp - 20 "nodes" big encounter location, with all the goodies (including new in-encounter death sequence).
New Scavenging Locations
- Half-Sunken Building (on the Black Swamp only)
- Ransacked Mini-Mart (only on urban hexes)
Additional Scavenging Accidents
- Fall into water (only in half-sunken buildings, causes bruising and vomiting)
- Crumbling Wall (in ruins, causes bruising and concussion)
Gameplay changes:
- degrading lockpicks/rat trap do not always leave full amount of its parts
- drug pills do not show medicine names if not identified
Stay ConnectedStay up to date with the latest releases, media reports, and game updates.