Selfmade Clothing Ideas
Selfmade Clothing Ideas
Selfmade Clothing Ideas
on
January 23, 2013 - 6:40
Well, Plastic Bags... lets talk about giving them a couple of extra more uses for them. I dunno if this sounds retarded but how about using them as Gloves/Shoes/Hat? There's a lot of raining and cold winds in this game and plastic bags could probably keep your hands and feet dry and protected from the wind.
They shouldn't increase your warmth meter... instead, they should make it take a bit longer for you to freeze to death. Maybe you could also wear up to 3 bags on your feet coz they should probably degrade/decay pretty quickly when walking around the map.
Specially useful when starting a new game. Sometimes you just start in the middle of nowhere and freeze to death due to your bad luck.
Here, I made a pic about how they might look on you.

The next Tier in weak cold protection should be using Rags. Handwraps, Footwraps and Headwraps. Here, a picture to represent Rag Clothing.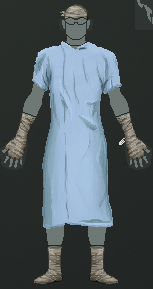 Stay ConnectedStay up to date with the latest releases, media reports, and game updates.