Simple Bottle Label (v1.0) [for NeoScavenger v1.15] [Requires NeoScav Extended v6.5]
Simple Bottle Label (v1.0) [for NeoScavenger v1.15] [Requires NeoScav Extended v6.5]
Simple Bottle Label (v1.0) [for NeoScavenger v1.15] [Requires NeoScav Extended v6.5]
on
October 10, 2020 - 22:55
Simple Bottle Label
This mod allows the player to label bottles in two simple steps: Right click on the bottle and select the type of liquid it contains, the description and graphic will change accordingly.
The mod also supports the new liquids introduced in NeoScav Extended (coffee, beer, moonshine and wine), so that mod is required.
This is the same concept as the Bottle Label Mod but without recipes nor a pen tool, plus the new types of liquid. Kudos to that mod author for the idea.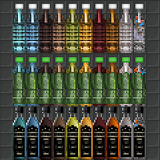 Requirements:
* Game version 1.15
* NeoScav Extended v6.5
Download:
DOWNLOAD HERE
Changelog:
Spoiler:
Highlight to view
v1.0
* new sprite for the 'Beer' bottles.
* minor improvements to all graphics.
* minor spelling correction.
v0.99:
* Release of the mod.
Stay ConnectedStay up to date with the latest releases, media reports, and game updates.